It's my thinking that our priests need a
Veronica
and a
Simon
. They need support as so many are fighting valiantly on the front lines, being chewed up and spit out. Yes, it's "part of the job" and "par for the course" but it's been impressed up me, that when we can step in and be that Veronica or that Simon...to give them hope and encouragement...well, how beautiful it is to offer that gift, for they've spent and consumed themselves for souls and no doubt for our own.
susie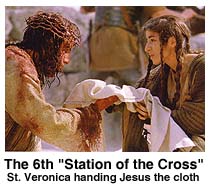 Your Veronica

This call of God
Has brought you here
To the most steep
And rocky path
You've ever encountered
Jagged and cruel rocks
Have cut your burdened feet
And torn your precious knees
That hold you up in
Prayer...
Your feet are bleeding
And even your heart
Is beating in faltering
Rhythm
Matching the staggering steps
Where your tender
Bruised feet fall and
Desire to linger
But can't
The weight of this cross
Has knocked you
To the ground
For what seems to be
One too many times
And my heart breaks
For you...
My tears mingle with
Yours in spirit
The sweat and tears
Of this, your struggle
That now sting your eyes
Keep you from seeing
Where to place your
Next weary step
So Father,
Let me press my veil
To your face
A veil of prayers
On your trail of tears
That will reach heaven
When no words are
Found to escape your lips
Because you're exhausted
And out of breath
But I will join your friend
Beyond the cosmic veil
And unite my frail prayers
With those of one
More righteous and holy
And soon, you will see
The path
And your burden will
Not be more than you
Can endure
Just let me be
Your Veronica
I'm only here to answer
My call
To be your Veronica
© susie melkus
08.18.07