Prairie Dogs Can Talk, Says Scientist

What would happen if we discovered another intelligent species? According to Con Slobodchikoff, we already have; prairie dogs can talk using a language more sophisticated than any other animal ever studied. Would it alter the manner in which we could use the land occupied by the individuals of that species?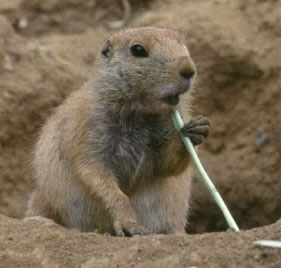 (Prairie Dog Contemplates His Domain)
Most people listening to prairie dog chatter describes it as a series of yips, high-pitched barks or eeks. However, according to Dr. Slobodchikoff, Professor of Biology at Northern Arizona University, prairie dogs are capable of referential communication. They have:
different alarm calls for different species of predators
different escape behaviors for different species of predators
transmission of semantic information, in that playbacks of alarm calls in the absence of predators lead to escape behaviors that are appropriate to the kind of predator who elicited the alarm calls
alarm calls containing descriptive information about the general size, color, and speed of travel of the predator.
Prairie dogs are able to use adjectives to differentiate objects, including human beings. For example, they can describe the color of clothes on a human and whether he is tall or short. They can also describe how fast a man is moving or whether he is carrying a gun. And there's evidence that the animals can remember that specific person for up to two months.
Prairie dog colonies appear to have unique dialects, much like New Yorkers sound different from Southerners. But researchers believe the basic language is the same. That is, a prairie dog from Arizona could talk to a prairie dog from New Mexico. And that's comforting.

Sayeth Susie: "Why, It's not only comforting, it's downright, flippin' amazing! That means they can communicate better than most high school graduates! I read somewhere that some high school grads are so woefully inept at geography, they can't find Canada on a map! One didn't know what the great big body of water was to the west of California. Go Dogs! Check it out, that prairie dog is bloggin' and you know it! He's holding a stylus to tap out his posts to his prairie blog buddies in colonies throughout the country.