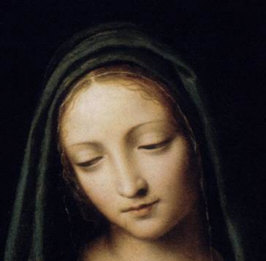 From John Martignoni's newsletter: (please check out Bible Christian Society.)

Challenge Response Strategy
Adam writes asking John:


John,
I had a friend point out a verse of the bible Luke 11:27 and he was trying to say that Mary was just a plain woman and we shouldn't give honor to her for following Jesus. He also was trying to point out that there is nothing special about her. But I wanted to hear what you would say about that.
Adam
John's reply:
Adam,
Luke 11:27, "As He said this, a woman in the crowd raised her voice and said to Him, 'Blessed is the womb that bore you, and the breasts that you sucked!' But He said, 'Blessed rather are those who hear the word of God and keep it!'"
Luke 1:38, "And Mary said, 'Behold, I am the handmaid of the Lord; let it be to me according to your word.'"
Luke 1:45, "And blessed is she who believed that there would be a fulfillment of what was spoken to her from the Lord."
Jesus is not putting Mary down in any way, shape, or form in Luke 11:27. He is actually referring to her first and foremost as one who heard the word of God and kept it…as we see confirmed in Luke 1:38 and Luke 1:45. He is actually telling us that we need to model ourselves after His mother, who said to the Lord, "Let it be to me according to your word," and who believed in the fulfillment of the Lord's word to her.
Also, to say that Mary was just a plain woman is like saying the Ark of the Covenant was just another wooden box. The Ark of the Covenant was holy because it carried the stone version of the word of God. It was holy because it carried the manna that God had sent from Heaven. How much holier must Mary have been as the carrier of the word of God in the flesh?! As the carrier of the bread of life?! To what other woman was given the honor of being called "the mother of my Lord"? To what other woman did God ever say, "Hail, full of grace, the Lord is with you"? What other woman ever bore God in her womb? What other woman was "overshadowed" by the Holy Spirit?
To say that Mary was "just a plain woman" is an insult to God and is just an absolutely ridiculous statement.
And that's what I say about that.
God bless!
Oh, and another thing:
Luke 1:41-42, "...and Elizabeth was filled with the Holy Spirit and she exclaimed with a loud cry, 'Blessed are you among women and blessed is the fruit of your womb!'"
Luke 1:48, "For behold, henceforth all generations will call me blessed."
Yep, sounds like just any ol' ordinary woman to me.
One of the most outlandish things that I've ever heard was that Mary was just an "incubator" for Jesus. That's very scriptural, isn't it?
Luke 1:43, "And why is this granted me, that the incubator of my Lord should come to me?"
Folks, to say that Mary – the daughter of the Father, the mother of the Son, and the spouse of the Holy Spirit – was just a "plain woman" is the height of absurdity. No other human being has had such intimate relationships with all the persons of the Trinity. And to say that we shouldn't honor her, is diabolical in origin. Jesus honored her, that is, of course, if you think He kept the Commandment about honoring your father and your mother. So, if Jesus honored her, are we not to imitate Jesus in what He did and how He lived? If so, then we should honor her, too.
In Conclusion:
In Gen 3:15, God says He will put enmity between Satan and "the woman." The woman whose seed is seen, by all commentators I have ever read, to be Jesus Christ. In other words, Mary. Because of this enmity, honor paid to Mary simply infuriates Satan. That is why He is doing His best to spread the lie that Mary was just an ordinary woman like any other woman and deserves no special honor, no special attention.
In Luke 11:27, Jesus is indeed putting His mother in her place. But, not by dismissing what this person was saying about Mary and lowering her status, but by taking what this person was saying to an even deeper level and elevating Mary to her proper place as a role model for all in her acceptance of, and obedience to, the word of God.
Edith Stein wrote, in "Church, Woman, Youth" from Essays on Woman:
"Mary is the most perfect symbol of the Church because she is its prefigurement and origin. She is also a unique organ of the Church, that organ from which the entire Mystical Body, even the Head itself, was formed. She might be called, and happily so, the heart of the Church in order to indicate her central and vital position in it. . . . The title of Mary as our mother is not merely symbolic. Mary is our mother in the most real and lofty sense, a sense which surpasses that of earthly maternity. She begot our life of grace for us because she offered up her entire being, body and soul, as the Mother of God."