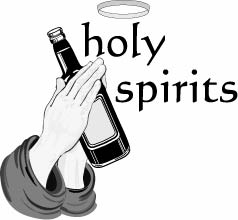 There was a song popular when I was in my early teens by Scott McKenzie --
If You're Going To San Francisco
(be sure to wear some flowers in your hair) yeah...back in the late Height days... Anyway, I've rewritten the lyrics to fit this new 20 something generation of Catholics for the New Evangelization and the
Theology on Tap
speaker series that are in almost every major city
across the nation...(hence
the song came to mind.)
Theology on Tap, Lincoln, NE
meets at the old landmark
Valentinos
on 35th & Holdrege.
You can find one in your city or town or start one yourself. How fun would that be? I can't help but think how cool it would have been to have this when I was in my 20's and searching outside the Catholic Church for answers, thinking the CC was "too stodgy, archaic, and traditional" when all along THAT was what my soul longed for and
thirsted
for,
: )
but I was too "smart" and thought I knew better where to find answers and Jesus, so I left the CC in search of "perfect church USA" The eternal longing inside me created by God to find Him in His Church i all but squelched by reading various assorted anti-Catholic tracts. God certainly used it all and it's all part of my long and winding road on my journey Home. However, with this outreach by young Catholics
for
young Catholics, I can only say, "Cheers and God bless!" This idea really
rocks and blends
the best of two worlds. Drink wisely, of course, enjoying an articulate and informative speaker/guest and then conversation and discussion over a pint or some wine sounds absolutely sublime. I'm thinking of starting
Libation Theology
for us in middle-aged 'inkling types'
and a bit above in years. Any takers? Maybe Goldbergs, a neighborhood watering hole Rich and I like. How about Thursday nights bi-weekly in the Winter months? Let me know and we'll get it going!
If You're Going to Valentinos


If you're going to Valentinos

You're gonna find some gentle people there

For those who come to Valentinos

You will find your questions answered there

All across the nation, there's a new sensation,

religious discussion

For a new generation, talking faith with libation,

religious discussion, religious discussion

for those who come to Valentinos,

you're gonna find some gentle people there

if you come to Valentinos
honest questions we'll try to answer there
For more on
Theology on Tap
,
click here.
and for
Theology on Tap on the Road?
For great ToT audio it's
HERE! PHAT MASS...Hard core Catholic
Do you see what I see? The head left a HEAD. "Shroud of Guinness?"