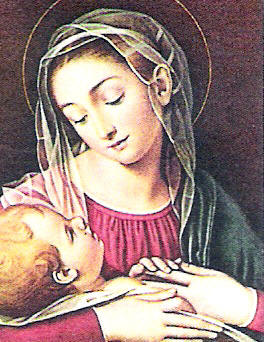 I was searching for some images of Mary to include on the post below this one, and found that gorgeous icon here, at
St. James the Hoosier.
I was so touched to see that this Lutheran pastor, Rev. Jim Roemke, was brave enough to post his affection for our Blessed Mother. While we don't agree on praying to or not praying to the Mother of our Lord, it blessed my heart to read his post, and had to comment to thank him for his respect for Mary. God bless him and others, whose eyes are being opened to call her [Mary] blessed in this generation. "Every generation will call me blessed" said Mary in her Magnificat. St. Elizabeth "got it." She knew Mary was the Mother of her Lord, (God) and how it has warmed my heart to find a Lutheran pastor unafraid to declare her as such, too. Mary is truly the Mother of us all. She's calling us all to "come Home" and meeting us all on the different places on our journeys. God bless you Pastor Jim. You are a "good son" that has delighted his spiritual Mother.