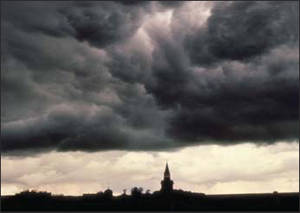 Set the trumpet to your lips,
for a vulture is over the house of the Lord. (Hosea 8:1)
IT has been nearly a year since I met with a team of other Christians and Fr. Kyle Dave of Louisiana. From those days, Fr. Kyle and I received strong prophetic words and impressions from the Lord which we eventually wrote in what is called The Petals (read them here).
At the end of a week together, all of us knelt in the presence of the Blessed Sacrament, and consecrated our lives to the Sacred Heart of Jesus. As we sat in an exquisite peace before the Lord, I was given a sudden "light" as to what I heard in my heart about the coming "parallel communities."